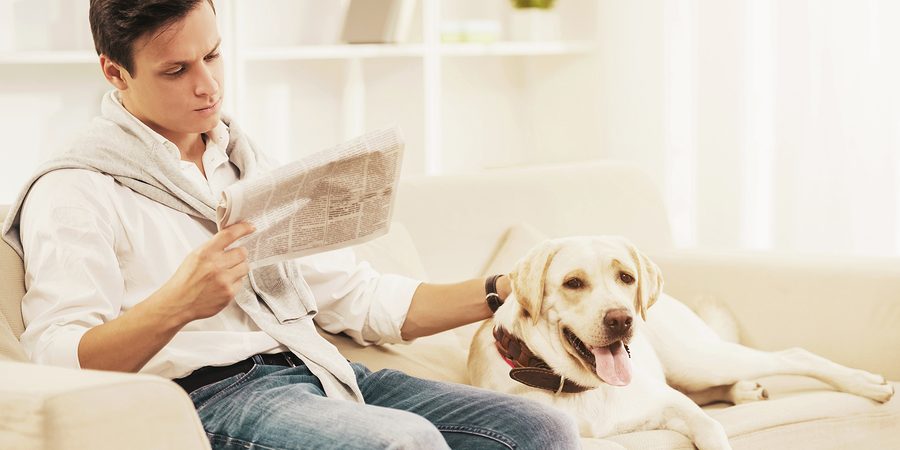 We live in a world where restaurants put water out for dogs on the regular and even big-box retailers such as Nordstrom and Macy's allow pets on their premises. Now-a-days it seems that nearly everyone takes their dog shopping with them. Naturally, after making this observation you may have thought about making your optical retail business a pet-friendly environment to bolster sales. This is the latest consideration many businesses have to think through, and we understand why — retailers don't want to miss out on the opportunity to appeal to the pet-owning audience.
That said, the question is: Is making your optical retailer pet-friendly the right choice? We at Frame Displays love petting cute fluffy dogs as much as the next person; however, it's a strong no from us and here's why:
While it may seem like there are as many dogs out there as customers, this is just an illusion. You may think you are alienating a large audience of pet-owners, but the reality is that only 14% of American households own dogs. Considering that most of the population does not take their dogs shopping with them, you're looking at alienating maybe 4% of Americans. Now, we must ask ourselves if many of these potential customers that take their dogs shopping would consider not entering your store because it isn't pet-friendly. From our experience, we've found that most pet-owners are okay with leaving their pets outside, which makes that number of alienating pet-owners to less than 1%.

Allowing dogs into your business is a pretty big liability. If you have carpet, dogs could potentially stain them by urinating in an unfamiliar environment. If you have hardwood in your shop, pets could scratch it, which is expensive and complicated to replace. Regardless, wet or uneven floors are cause for major liability if a customer gets injured in your optical retail shop. Long story-short, dogs can be the reason for slip-and-fall lawsuits filed against your business.
Dog bites are a very real concern, especially with other customers wanting to pet a cute little puppy they find in their friendly neighborhood optical store. The chances of this increase if the pet-owner is especially careless and is not watching their pet closely.

Dogs can damage inventory that you have invested many hard earned dollars into. It takes only seconds for a dog to wreak havoc on the store you worked so hard to put together. What's worse is that you could have two dogs start a fight, and just like that your store is left tattered. Also, if pets bark too loudly, you run the risk of irritating other customers, which in the end could harm sales.

Pets can make your optical space unsanitary. The last thing you want is a dog to lick their owners face while they're trying on a pair of your display frames. That's not an easy one to explain to other customers in your store.
We know we sound like the bad guys here, but as active members of the optical industry, we've heard enough horror stories from optical retailers. In order to keep your shop safe from harm and to keep you from taking on liabilities you may not want to shell out the big bucks to argue in court, you have to be steadfast in your decision to ban pets from your store. If you still choose to allow pets in your store, it may be worth your time to set some rules and guidelines for customers to follow. Be sure to make the signage of these rules big and noticeable.