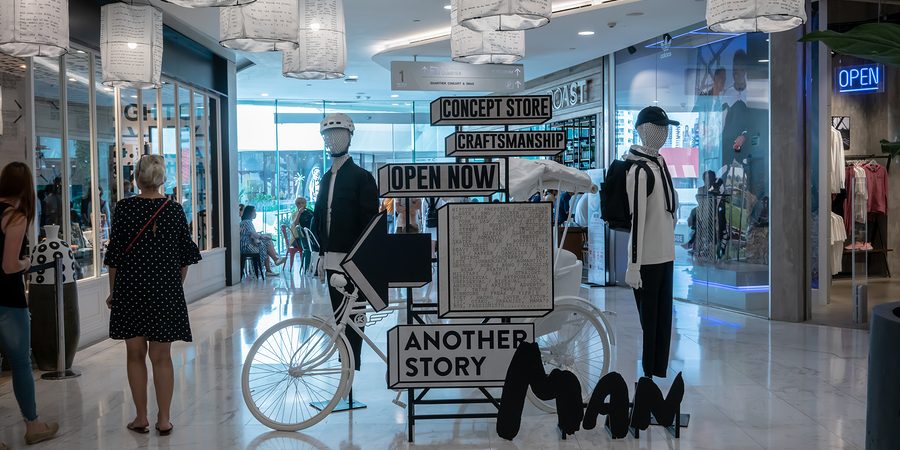 Displaying your merchandise in a well-planned and purposeful manner is the single most important way for you to connect your clientele with your offerings in your optical retail setting. Optical store planning is an ongoing, evolving process as we learn more about our target customer's behaviors. Luckily we now know that there are many proven ways of how you can use visual merchandising to your advantage. You can show off your newest optical products, your best sellers or even your products that are a bit more difficult to move to give them more appeal. When you showcase your optical products to the right audience in the right light, everything can look like a ring of gold.
Humans are visual creatures — as optical retailers, we need to take advantage of that fact. Put together your retail displays so the customer can best process your products and services how you want them to be presented.
Here are some of our favorite visual merchandising tips:
1. Encourage Touching, Feeling & Trying Your Products
To really understand the value in a customer entering your optical store, you first need to ask yourself something: Why should a customer leave their home, drive to your optical shop and put in the effort of niceties, etc. if they can just buy a product online (at Warby Parker for example)?
The main reason people choose to shop at brick-and-mortars is because people like to be able to touch, feel the quality and try the products they're looking for before they buy them. The key takeaway from this information? Put together retail displays that encourage customers to try out your optical products. For bonus points: provide alcohol wipes for customers to clean glasses in your optical retail store before they try a pair of glasses.
Regardless of if you create signage or a retail display encouraging your customers to try on your glasses, be sure to provide your clientele with plenty of mirrors so they can see how your glasses look on them. Also, be aware of lighting – provide lighting that is flattering and is in a position that does not interfere with mirrors.
While we can't give customers their prescription glasses an hour after they've purchased glasses from you, we can welcome them to touch our optical products and encourage to try them on. Try using some signage like "Try before you buy" or "Your personal style matters to us, try them on".
2. Cross-Sell Your Merchandise
A great way to provide additional value to customers willing to come into your optical retailer is to create a story for them. Provide different scenarios for them to imagine themselves with your glasses on.
For example, create a portion of your optical store for beach day. Create a setting with natural light or a bulb that emits lighting that imitates the sun where your transition lenses or sunglasses are on display. Put together signage along the lines of "don't choose between protecting your eyes from the sun and seeing clearly". The goal here is to make your customers understand the value in what you're providing them. To successfully cross-sell, remind your patients that you can provide scratch-resistant lenses that might be more beach or sport friendly. Place complimentary products nearby as well, such as a waterproof glasses case or even an eye cream with SPF.
3. Displays Can Educate Patients About Your Product
Displays can be used in any way you need them to be useful. Providing your customers with your brand history on a plate and labeling the various types of products in your store is a good start. Another smart way to use displays to your advantage is to create a display that may teach your patients about your offerings. Put up a poster with glasses shapes that compliment different face shapes or unique personal style. You can also strategically place this signage right behind products that you may want to highlight. Another great topic to educate your customers on is in regards to different lens coatings such as anti-glare, scratch-resistant, blue-cut lenses, high-index lenses, etc. When your customers feel well-equipped with the knowledge they need to make a smarter product choice, they will be more likely to purchase from the source that has shed some light on needs they didn't even know they had.
Do you have helpful tips for your optical industry members? Message us on Facebook so we can spread the word. Not sure how to design your shop to optimize your space and your sales? Contact us for a free consultation at 1-877-274-9300 or contact us here.