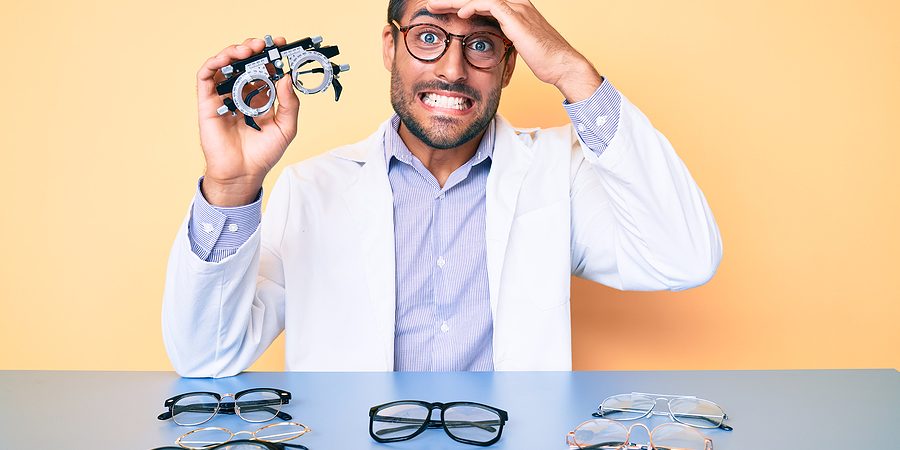 If you're reading this, you likely have already diagnosed your customer retention problem or are trying to avoid such a problem in the future. If you're having a customer retention issue don't worry, you're not alone — in fact, U.S. businesses lose nearly $137 billion per year due to avoidable consumer switching. Why should you be so worried about customer retention problems aside from the obvious? For most successful businesses, 80% of their profits will come from 20% of their customers. So let's dive into how your retail optical business can retain customers better.
1. Bad Customer Service
80% of customers say they look for retail alternatives if they've received a bad customer service experience. It's important to keep customers informed without them having to play 21-questions with you or your staff. To develop a better relationship with your customers you should keep them informed, treat them AND their time with respect (which means don't keep them waiting too long), be compassionate and follow up after their appointment. Keep in mind, just because you are offering great customer service doesn't mean they are receiving that same great service from your office staff. Provide your staff with trainings and emphasize how important good customer service is for the business. It may even be helpful to remind your staff that providing quality customer service is a big part of their job description. After all, think about how you feel after you enter an establishment and the receptionist greets you with a stern face and a monotone "What do you need?". If patients dread dealing with your staff or if they have to regularly contact your team due to billing errors, you're shooting yourself in the foot and likely bleeding customers.
2. Offer Smarter Services
Buying glasses can often be challenging for customers. It's important to have someone on your team that is trained to help customers based on taste, face-shape, wants/needs and most importantly is able to depict that they care about the customer's problems, regardless of how small. A great marketing strategy is to promote that your optical businesses offers an on-site stylist that can provide customized care. You can train your optician or receptionist to learn the basics when it comes to glasses styles and add ons as well as how different types of glasses fit in with various styles. Your stylist should also be able to pick up on queues to help provide glasses pairings for individuals from details such as job title, they way the customer is dressed, etc.
3. Create an Intelligent Retail Design Layout
Your optical retail layout should be strategic and systematic rather than random and scattered. The goal for any good optical retail design is to guide your customer through your product selection without them having to think too hard of where to look for what they want. It's also vital to make sure your optical dispensary doesn't come off as old or outdated as this affect's customer perception or your practice or business directly. Customers evaluate how clean and well-kept your space is as no one wants to be in a space stuck in the early 2000s. Even the slightest disconnect with your space can cause confusion or distaste and move your customer over to a more modern and user-friendly optical shopping experience. If you're not sure where to start, take a queue from Warby Parker. Their design is modern, well set up, clean and to-the-point, however, not affordable or practical for multi-brand retail models.
We know strategic optical retail design can be very complex and time consuming, but it is well worth the time and investment. To make smart design choices, you should know the ins and outs of optical retail space planning or hire professionals. For example, consumer behavior dictates that 90% of customers subconsciously turn right when they enter a retail space, which makes that space in your retail shop the "power wall". When putting together your space, pay attention to lighting, structure, layout/creating a walking path, creating speed bumps where you want customers to slow down, etc. If you're unsure whether your optical retail space is best equipped for a great customer experience, FrameDisplays.com, an expert in space planning and design of optical retailers, offers a free consultation to determine if your space could be laid out better or if your optical displays and furniture are outdated and need to be replaced.
4. Offer Modern Conveniences
81% of patients would schedule their doctor appointments online if given the option. For many, especially millennials, calling an office and being put on hold is an unnecessary and excruciating process. Take another queue from millennial-magnet Warby Parker. Warby Parker has created an online portal to schedule appointments, review eye exam results, view prescription information and ask them questions. While building a patient portal yourself can be expensive, there are many options when it comes to solving this problem and creating a better customer experience. Softwares such as Appointy or Square Appointments make creating an appointment scheduling portal easy. You can also use tools such as Facebook to answer questions your customers may have.
A successful customer retention plan requires effort and investment. You must create a business that remains competitive with today's climate while keeping customer experience at the center of your efforts. Frame Displays offers retail space planning and design solutions to optical retail spaces across the country so you can bridge the gap between one-off customers and dependable customers that provide 80% of your revenue.
Enjoyed this piece? Look out for part 2 of our Customer Retention Guide through our e-mail newsletter in the coming weeks. If you are not signed up to receive our newsletter, sign up here.